avinashv
biography
Guitar, bass, ukulele, sitar, harmonica, bongos and the kazoo.

Want to talk? I'm always up for collaborations or ramblings on philosophy or physics.

I'm on Yahoo, MSN, AIM and Skype. Shoot me a PM if you want to talk.
8

July 27th, 2013 + 11:07 AM
·

avinashv
I play the piano (not well) now, and this is something that came up a while back. I just received my new mic, so I thought I'd test it out by doing this.

This is, quite simply, the greatest piece of music ever written for theatre, so forgive my wailing if it gets too much.
8

June 16th, 2013 + 1:06 PM
·

avinashv
Well, hello. It's been a while.

Recorded this a few minutes ago on a garbage portable 8-track. There's a horrible mis-hit note in one of the guitar tracks that I tried to edit but punching in and out was so painful I just didn't bother. Three tracks, recorded in one-shot.

This is a cover of a really old, obscure song by a country duo that I learned how to play on the ukulele many years ago, and my interest in it was revived when the almighty Eddie Vedder covered it on his album Ukulele Songs.
7

June 1st, 2009 + 7:06 AM
·

avinashv
Yet another badly-named acoustic jam track (in the vein of
http://forum.bandamp.com/Audio_Review/5864.html
).
Straight back-to-back takes as usual, and it shows here. The lead is super, super sloppy, but I honestly don't care a tremendous amount. The harmonica is back, and it was great fun to blare along, sloppy as it is.
Unlike most of my stuff, I actually bothered to use a metronome here, so if someone wants to take a crack at the lead, adding vocals, proper drums, etc. etc., let me know and we'll talk.
I'd pay $1,000 for a Mac version of FL Studio 8. Please, pretty please?
8

June 1st, 2009 + 1:06 AM
·

avinashv
A cover of the song "Pockets" done in the style of Avi.

Apologies for the 12-or-so seconds of silence at the start of the track.

Edit: some background? Recorded this because I was a bit bored. Each track in one take save the vocals, because I started coughing midway through the first line the first time around. I'm super excited to have my electric with me again, so I've been recording with it. This has an acoustic, a jazz archtop and a strat for the three guitars. I experimented with layering sound with as few instruments as possible. I'm reasonably pleased with the end--it gets as heavy as I wanted it to, and I only had to layer an additional vocal track.

Lyrics:
By now you know that I never arrived
I was too tired to move
I was gonna invent an elaborate excuse
But I'm tired of them too

Little pockets of air in the atmosphere
Make it easy to breathe
So farewell to unpleasant scenes
I want you to stay, stay, stay

The blinding flash of circling stars
Left relatively shallow scars
You played your faux renaissance card
To starry eyes and wild applause
27

April 21st, 2009 + 12:04 PM
·

avinashv
So, given that my previous attempt at getting people to just post a simple video of them playing something silly and unplugged didn't work out, I thought I'd try again now that we've got a bunch of people wanting to do a BandAMP video collaboration.
Watch mine here:
http://files.avinashv.net/misc/wave-of-mutilation.mov
Warning, I make some really, really odd faces when I play and sing at the same time--I've never quite watched my face when I do this so I was a little surprised. There's parts in there that look like I got hit below the belt.
Now you: take 5 minutes; pick up your guitar, get in front of your camera, hit record and play a song and sing. Preferably a suitably famous cover so we can sing along, but do whatever. I now know exactly which of you have a camera and a guitar (or keys, or a capella etc.) thanks to Marino's convenient list, so no hiding this time.
I'd be happy to host the video for you: upload it temporarily to http//senduit.com or something and email me the link; I'll upload it to my webspace and it'll sit there forever, hopefully.
Alias:
avinashv
Status: Offline
Threads:
64
Posts:
669
Songs:
13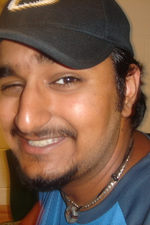 Joined: November 23rd, 2006
Last login: August 26th, 2022
My Messengers
| | |
| --- | --- |
| AIM: | n/a |
| ICQ: | n/a |
| Skype: | n/a |